General HSE Course

Introduction to Safety, Health and Environmental Principles
Provides general review of a HSE Officer's responsibilities in
each of these areas and the need to be knowledgeable in the
basic requirement of HSE principles to help make work area
safe.
days

Hazard Recognition/Accident Prevention
Basic understanding of what causes accidents and the steps
that can be taken to identify hazards. Also reviews methods
for correcting hazardous situations to prevent them from
resulting in accidents and possible injury.
days
An intensive classroom theoretical training specifically designed for those who are
interested in becoming HSE Professional.

Accident Investigation
Methods and procedures for investigating an accident and
preparing an injury/illness report.
days

Human Relations/Communications
Provides methods which enable HSE officer to more
effectively communicate with their employees. Reviews the
need for HSE officers to keep their people informed and listen
to their ideas and opinions as a sound basis for an effective
departmental safety program.
days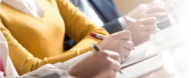 Training
This module reviews methods for giving HSE officers needed
techniques and skills to conduct effective employee training.
days

Job Safety and Health Analysis
Procedures for reviewing a job and preparing a Job Safety
and Health Analysis of the way the job should be done. It is
built around involving the people who do the job so the
information will be used.
days

Key Safety Procedures
Reviews in a general way, some of the specific key safety
procedures and practices that apply throughout most
industrial operations. HSE personnel should have an
understanding of basic safety concerns in each area. In depth
content is provided in the specialized subject Modules.
days












©
Safetek Consults Limited. All Rights Reserved.
+234 8025436653